Moline Sr High School
Class Of 1966
In Memory
Randy Olson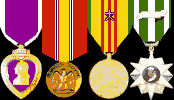 9 Oct 2007
The description of Randy would match what anyone would want as a best friend and he was just that to me from age 3 until the day he died. His integrity, physical traits, and bravery were prototypical Marine but his kindness, generosity, humor, affability, and his desire to know and love God were what dominated his personality. His letters from the field were filled with hope and concern for others even as they were written while positioned in dangerous places like the Rock Pile in Quang Tri Province. He often talked about his desire for the others in his squad to know the same relationship with a living Christ as he did.
He was wounded July 1968 in an action that won him the Bronze Star and was given a desk job for the remainder of his time in country. However, he volunteered to go back into the field and was killed by friendly fire in September, the final month of his tour.
He is still deeply loved and missed after almost 40 years but his faith, loyal friendship, and character are still an inspiration from which I draw upon daily.
From his best friend,
Dan Olson
140 Silverwood Dr, Scotts Valley, Ca 95066
molson@santacruzbible.org

A Note from The Virtual Wall
In late September 1968 the 9th Marines were conducting Operation TRUESDALE, a massive sweep of the area south of the DMZ involving up to six maneuver battalions. In an accident of war a Marine artillery unit hit India Company, 3/9 Marines with eight rounds of 105mm fire. The incident is recorded in both the 3/9 and 9th Marines Command Chronologies:
3rd Bn, 9th Marines:
"260930H - Co I at coord XD855591 received eight short arty 105mm rounds. Fired by Fox battery 2/12. Six friendly KIA NBC, 14 friendly WIA NBC."


9th Marines:
"26 Sep - ... At 0930H, I/3/9 vic XD855591, received 8 105mm artillery short rounds fired by F/2/12. Results: 7 KIA NBC and 11 WIAE NBC and 1 NBCNE."
The seven men known to have been killed in the incident were
F Btry, 2nd Bn, 12th Marines (arty F/O team with India 3/9)

1stLt Douglas A. Paige, Baldwinsville, NY
LCpl John W. Stahl, Dayton, OH



I Co, 3rd Bn, 9th Marines

Cpl Andrew T. Bukovinsky, Manhasset, NY
LCpl Larry L. Lower, Union City, MI
LCpl Randall A. Olson, Moline, IL
LCpl Terry D. Ratliff, Atascadero, CA
Pfc John A. Ruscito, Centereach, NY
Randall Alan Olson
Lance Corporal
PERSONAL DATA
  Home of Record: Moline, Illinois
  Date of birth:  Thursday, 10/21/1948

MILITARY DATA
  Service:        Marine Corps (Regular)
  Grade at loss:  E3
  Rank:           Lance Corporal
  ID No:          2379996  
  MOS:            0311 Rifleman
  LenSvc:         Between 1 and 2 years
  Unit:           I CO, 3RD BN, 9TH MARINES, 3RD MARDIV

CASUALTY DATA
  Start Tour:     Saturday, 11/18/1967
  Cas Date:       Thursday, 09/26/1968
  Age at Loss:    19
  Remains:        Body recovered
  Location:       Quang Tri, South Vietnam
  Type:           Hostile, died outright
  Reason:         Artillery, rocket, or mortar - Ground casualty

ON THE WALL       Panel 42W Line 020